On Sunday 18 October 2015, at the Universal Exhibition of Milan, I had the opportunity of presenting a project which is dear to me, namely: MeChef.
This project is very much a fun learning game that aims to raise the awareness in as many people as possible of
the importance of eating healthily and of being respectful of the environment.
Developed in the form of an iOS application for iPhone and iPad, MeChef is an invitation to learn in a fun way over 200 recipes with an underlying rationale of sustainable development. It will be available very soon.
I set up a start-up to develop this project, whose launch and growth have been possible through co-operation with the Paris-based communications agency MANGAIA [See link] and with a group of engineers from Milan [See link].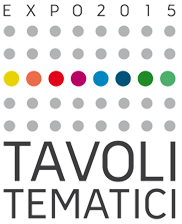 My talk at Expo Milano has been made possible through the Slow Food Theatre [See link], in order to highlight Mediterranean produce and products, recognised by UNESCO as being part of the intangible cultural heritage of humanity [See link].
I was leading the "Polenta Way", one of the innovative projects of the theme pavilions at the Universal Exhibition of Milan [See link].
During that day, I was helped by the young students of the hotel and catering school of Aviano (from which I graduated). We took part in a joyous competition on a typical ingredient: Polenta! What better than this nourishing and simple vegetarian dish to represent the Italian culinary tradition?
This project was involved the Mayor of Chiarano [See link] [See link], together with various local associations such as "L'ortica ed erbe aromatiche selvatiche" who will make sustainable organic flour available from their local area. The grain for this flour was harvested by disabled people from "La Fattoria Sociale Moro", a practical example of success and integration.
The "salumeria Fratelli Corra" from the Trentino-Alto-Adige Region was also taken part in the project [See link]. A television report in the programme "Mela verde" broadcast on Mediaset was devoted to that famous delicatessen store [See link].
And we was also be joined at Expo Milano by: internationally renowned chefs such as Massimo Bottura, Carlo Nappo, Alessio Brusadin, Giovanni Fabbro, the Formaggio Montasio consortium, and small Slow Food producers from the Friuli-Venezia Giulia region. To accompany the event, a Neapolitan group of musicians "Madre Terra" was taken us on a trip across the world, by playing percussion instruments and singing songs with sounds ranging from those of Australian Aborigines to those of American Indians, and of other peoples of the world [See link].
It is through all these collaborations that our humanistic vision of food takes on its full meaning: not only social, but also focused on environment protection.
For further information, please contact:
Michel Basaldella
m_basaldella@yahoo.com
portable : +33 (0) 6 74 35 78 28