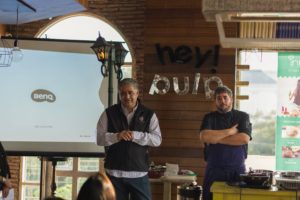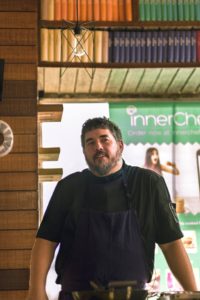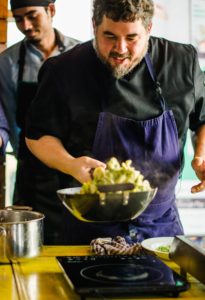 Click here to change this text
The Inner Chef Pasta-Making Workshop With Chef Michel Basaldella
"About a decade or so ago, most restaurants in Italy would make fresh pasta for the customers. They would begin to roll out the pasta only as a customer got in the door, and to serve anything less than just-made, hand-crafted pasta was a sin. Today, though, there are hardly any eateries who do that, in Italy or the rest of the world," said Chef Michel Basaldella as he began the 'pasta-making from scratch' workshop last week.
"Consider yourselves very lucky to be able to experience hand-made pasta just out of the pan," he added. I acquiesced, as did the few other food enthusiasts on board. We were at Cafe Onesta in Koramangala, eager to begin learning how to make pasta the old-fashioned way, at a workshop organised by InnerChef. I was lucky, indeed, to be able to learn from the Italian maestro himself, lucky to be invited to the workshop in my capacity as a food blogger. I was lucky to be able to get a bite of Provence, where Chef Basaldella hails from – that place I've always dreamt about after reading Peter Mayle! –  from the hands of the Chef, who has an extensive experience of working in Michelin-starred restaurants in London and Paris. Woah!
And the workshop began on that promising note, making it an evening that panned out so, so, so beautifully I am sure all of us present are going to cherish for a long time to come. Chef Basaldella teamed up with Chef Armando Di Filippo (who is a native of Rome, and is presently Consultant Chef with Onesta) to demonstrate quite a few varieties of hand-made pasta. I will take you through my memories of the lovely evening, through my pictures.
"Different regions in Italy prepare pasta with slight variations in the proceedure. Some add in about 12 eggs for 1 kg of flour, while some add in about 6. And a splash of white wine is an absolute must, for a great-tasting pasta," quipped Chef Basaldella, as he mixed the dough for the workshop.
Into the mixing bowl went a kilogram of maida (a good substitute to the 00 flour – a very fine flour made from wheat – that is commonly used in Italy for the purpose), three whole eggs, the yolk of three eggs, a dash of white wine, olive oil, a pinch of turmeric (for that mild yellow colour – because the egg yolks in India aren't as yellow as those in Italy), and just a pinch of salt, for all of it to be mixed together with gentle hands. The flour and other ingredients were then tipped onto the table, and bound together into a firm but soft dough.
"Every family in Italy has a wooden table, where generations of women have stood and made pasta by hand," Chef Basaldella quipped. "Here, though, we'll be using this metal surface," he said, almost apologetically.
The dough was then stretched and pulled and pushed to release its glutens, then bound up in cling wrap and allowed to rest. "If you think you cannot do all that pulling and pushing, think of your spouses," Chef Basaldella said jokingly, "and you will automatically start punching the dough." Ha!
It was after this that the magic began, and the audience watched on, spell-bound. Once the dough had had time to rest (about 20 minutes), one shape of pasta after another emerged from the skilled hands of Chef Basaldella and Chef Di Filippo. "There are over 3000 different shapes in which pasta has been made – only the documented versions, that is," Chef Basaldella said, eliciting a 'Wow!' from the audience.
Chef Basaldella went on insert a little of the prepared dough into a pasta-making machine, specially flown in from Italy for the purpose. The output was a thin, stretched-out sheet of dough. This dough was then folded and folded again, again inserted into the machine, to get an even thinner sheet of dough. This process was repeated 8-10 times, at the end of which a highly pliable, super thin and soft sheet of dough was obtained.
Chef Di Filippo demonstrated the same process with a rolling pin, for the benefit of those who do not have access to a pasta-making machine. He rolled out the dough thin, thin, thin, folded it and folded it again, rolled it out again, quite a few times. The end result was, again, a thin and pliable sheet of dough.
Chef Basaldella and Chef Di Filippo then showed the audience how to make ravioli in different shapes using simple things like glasses and cookie cutters. The filling used in the ravioli was customized, using ingredients that are very commonly available in India – paneer, salt, spinach and nutmeg, for instance, among other things.
The hands of both chefs flew as one shape after another emerged – from the classic round and square shapes of the ravioli to the very exotic 'mezzaluna' ('half moon' in Italian.
The ravioli cooked in boiling water tasted absolutely fresh and amazing, a far cry from the out-of-a-store-bought-packet pasta I have had so far.
Next up, Chef Basaldella demonstrated how to use the pasta machine to make thin strips of fettucine, from the sheets of dough he had prepared earlier. Chef Di Filippo showed us how to cut out strips of fettucine from the dough, using a sharp knife.
The fettucine was then cooked in boiling water and served with Chef Basaldella's signature basil pesto sauce. Oh my God, was this delicious or what?!
Next up, we were witness to a demonstration on how to cook dry pasta out of a packet (excellent-quality pasta that came all the way from Italy, specially for the workshop) with broccoli, Chef Basaldella's way. Chef Basaldella cooked dry pasta along with shredded broccoli (in the absence of the Italian 'rabe'), in boiling water. The sauce was very simple – just olive oil, garlic, a little of the shredded broccoli and some of the pasta water. Again, another delectable, delectable dish!
The workshop ended with a sampling of this gorgeous pasta, and a little question-and-answer session with the audience. It was amazing to see just how humble both the chefs were, ready to answer any query. This was followed by a delicious high tea courtesy of Onesta and Inner Chef, the relatively new food delivery service in Bangalore.
I am still reeling with all the excitement of the workshop. I can't wait to practice all of that at home. The workshop has, effectively, changed the way I see pasta – I don't think I can ever be eat pasta out of a packet all that comfortably now.
Onesta and Inner Chef, I can't thank you enough for this wonderful experience.
Some notes from the workshop:
Instead of making pasta dough entirely using maida, you can use a mix of 70% maida and 30% whole wheat flour.
Pasta can be made without eggs as well. However, dough made without eggs might yield slightly thicker pasta and might not be pliable enough to make ravioli and the likes.
A pasta machine is a good investment if you want to make pasta at home on a regular basis, and experiment with different kinds of flours. If you have made thin rotis the Indian way, though, a pasta machine might not be necessary.
Use the pasta water to make the sauce. This infuses a beautiful flavour into the sauce.
Pasta should always be cooked al dente, as per the chefs – cooked just enough, neither undercooked nor overcooked. Undercooked or overcooked pasta might cause issues with digestion, but al dente pasta never will.
Always use only Extra Virgin Olive Oil, the best quality you can manage to find. The bottles marked only 'Olive Oil' aren't really worth it, the chefs say.